Resource optimization in agriculture
Conventional farming
Organic farming
Consultants and NGOs
Companies and Industry
Efficient farming decisions
Agriculture provides us with safe and sufficient food but it has never before been subject to such rapid environmental and socio-economic changes. The dynamics of these changes and threats call for new approaches and innovative technologies to efficiently support decision-makers in the agricultural sector.
farming.software is a software platform that helps its users recognise and optimise the interacting impacts of management practices and can be used with any current Internet browser.
farming.software takes no decisions from its users. Instead it organises the multitude of data available from various sources to provide a sound basis for fast and efficient decision making in farming systems.
farming.software integrates data from a wide range of sources to enable accurate simulation of farming systems. Default values of data required for simulation analyses are provided by farming.software. These data are either pre-defined in farming.software or are obtained in real time from available databases and sensors. Users can choose the default values or decide to enter their own data.
With farming.software, users can modify the data according to their needs and requirements. This feature allows farming.software to efficiently support both beginners and experts in their decision-making process.
Forecasting crop harvest date and yield
Crop yield formation is the result of complex interactions between weather conditions, soil properties, plant genetic characteristics, and management practices. farming.software uses process-based crop simulation models that take these yield formation processes into account.
By assimilating data derived from satellites and sensors during the growing season, the crop model predictions can be continuously refined and a significant improvement in prediction accuracy can be achieved.
For instance, remote sensing technologies are used to perform satellite-based estimation of crop leaf area development and biomass production. The farming.software yield forecasting system can be used at field, farm and regional level.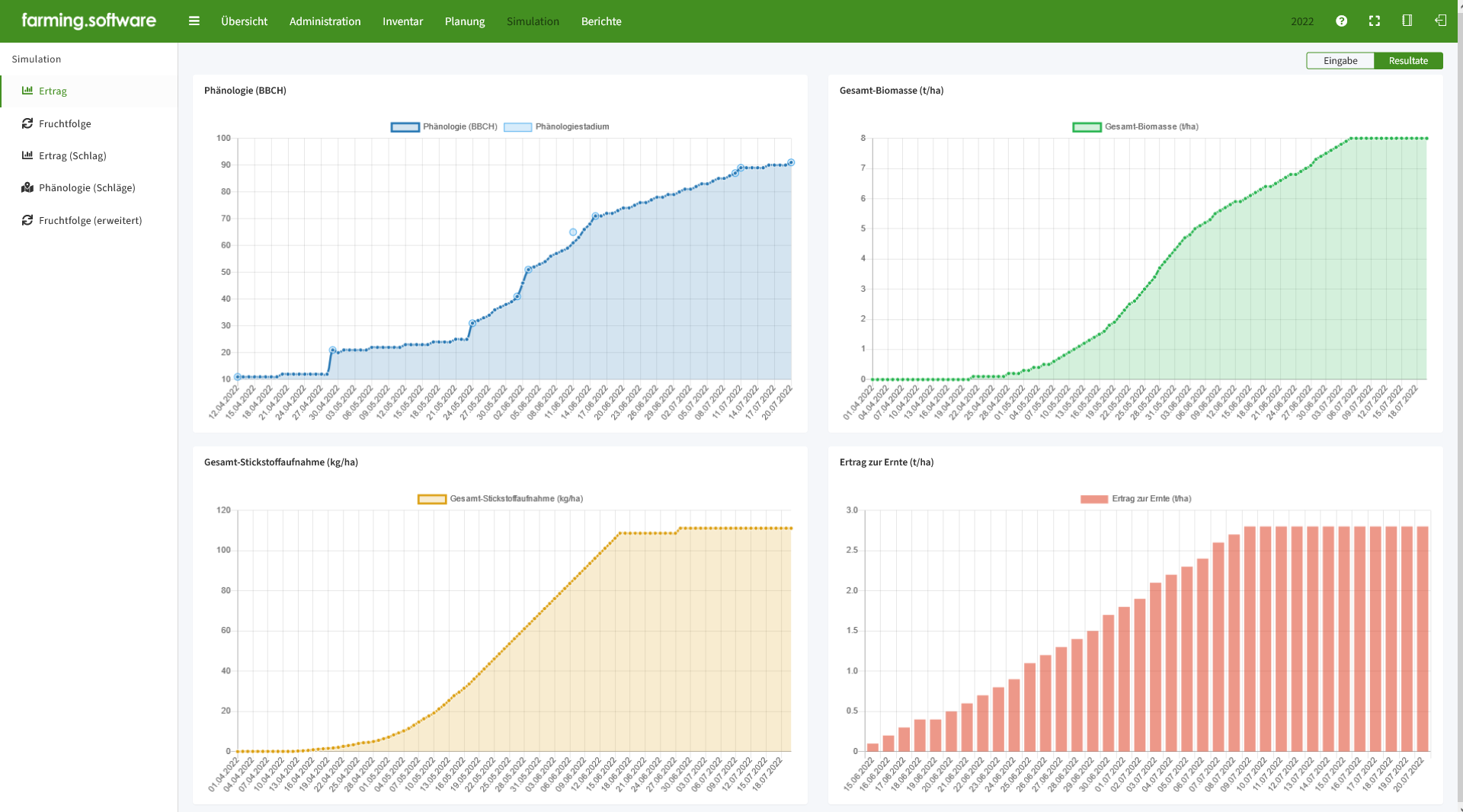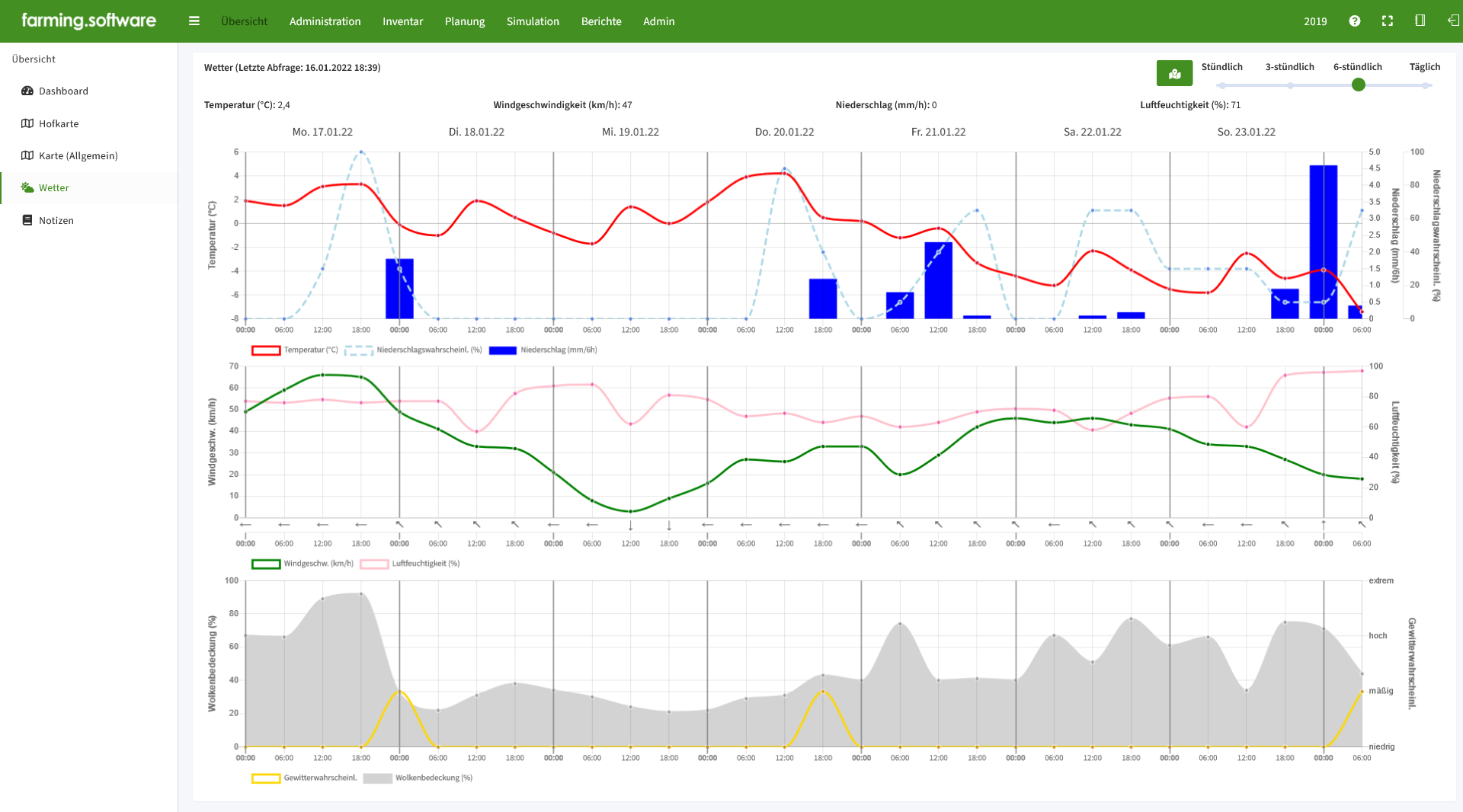 Optimising nitrogen fertilisation based on spectral sensing and crop modelling
Crop productivity and quality depend on large inputs of nitrogen (N) into cropping systems. The global average N-use efficiency (NUE) in cropping systems is, however, only 30-50% of applied N. The reasons for this are crop requirements that are poorly matched with application time of fertilisers, spatially variable N requirements of crop plants and seasonal fluctuations in weather conditions.
farming.software uses an innovative approach for estimating N fertilisation by linking spectral reflectance data with crop modelling. The crop model simulates season-specific plant growth and N demand, while the spectral sensor provides data on actual N content of the canopy. This information, together with weather forecasts, will be used to make tailored fertiliser recommendations.
Optimising forage quality and yield in grasslands
The growth, composition and development of high-quality plant stands in grassland systems depend on demand-based fertilisation and the potential productivity of the site in terms of soil, climate and topography. Additional influencing factors are an adapted cutting frequency together with appropriate harvesting dates.
farming.software provides a grassland yield and quality model for evaluating the relationship between cutting frequency and harvesting dates. A precise description of the temporal development of forage quality and quantity will be used to evaluate the optimal ratio of these factors and determine optimal cutting dates.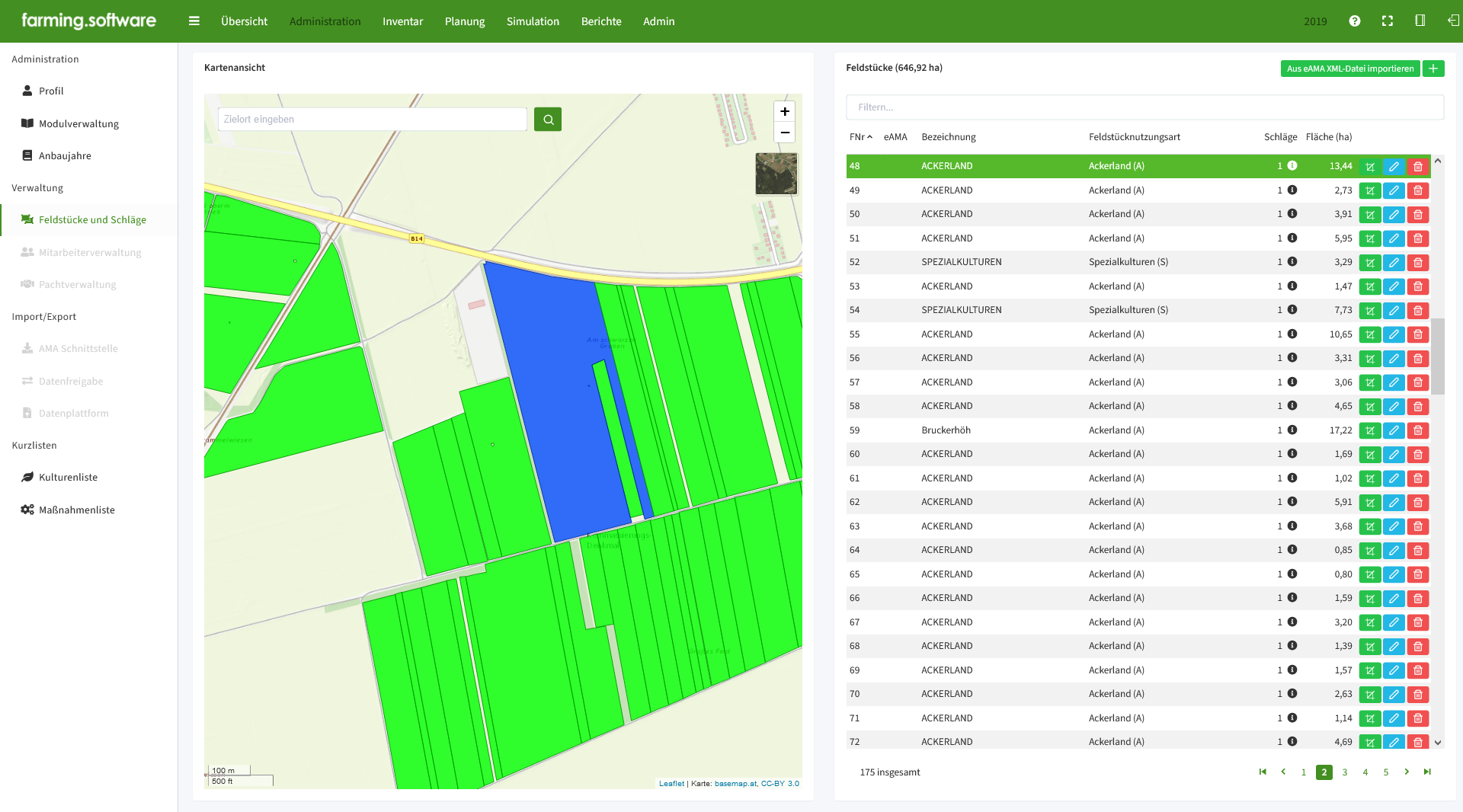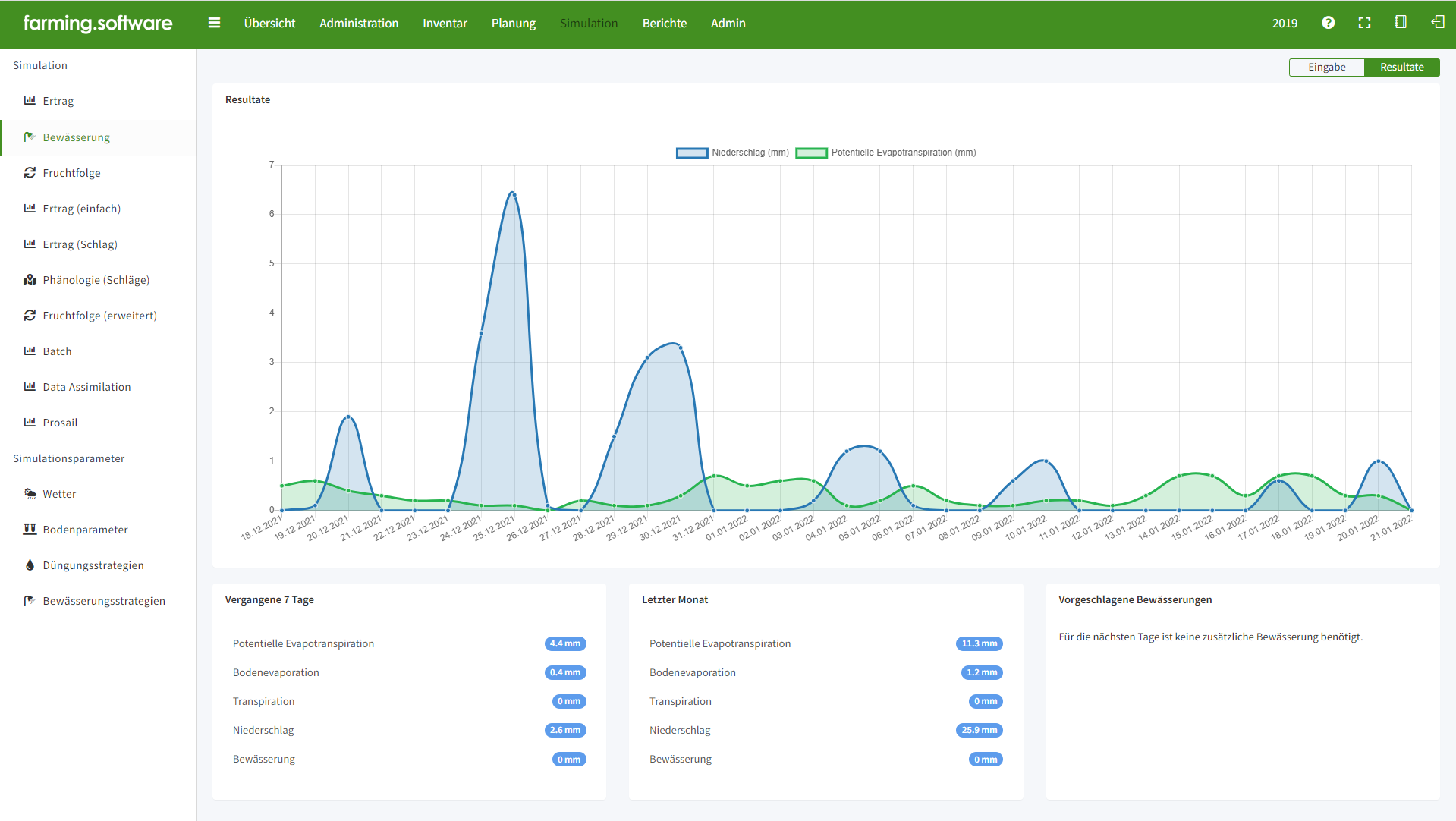 Efficient crop water management by remote sensing
Efficient water management is considered a major factor in increasing crop production by up to 70%. Water management currently requires the use of expensive infrastructure and is based on time-consuming point measurements.
farming.software uses multi-spectral and multi-temporal satellite data to calculate the extent of cropping area and crop water requirement on a daily basis. This information combined with soil water balance modelling is used to optimise irrigation amount and timing.
Calculation and optimisation of the ecological footprint
Information about the ecological footprint (CO2 equivalents, nitrate, water) of products over their entire life cycle is becoming increasingly important. Retailers use this information, for instance, for marketing to highlight the environmental compatibility of certain products.
Politics mandates the reduction of CO2 emissions in agriculture and exceeding emission limits is increasingly critically evaluated. In addition, information on the ecological footprint is used as the basis for awarding grants and farmers are increasingly requested to provide this information. farming.software enables the calculation and optimisation of the ecological footprint of water, nitrate and CO2 for a crop, a crop rotation or the entire farm.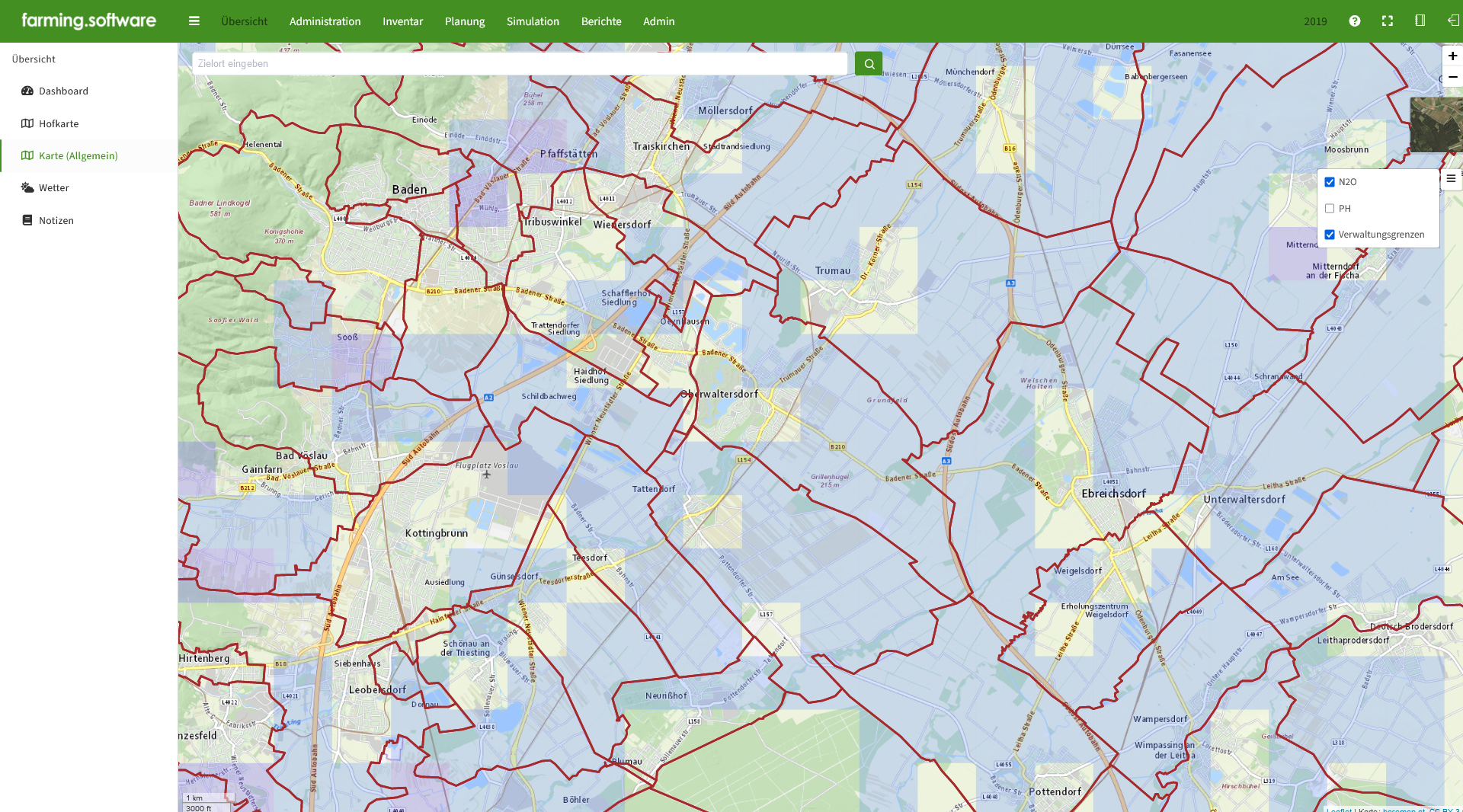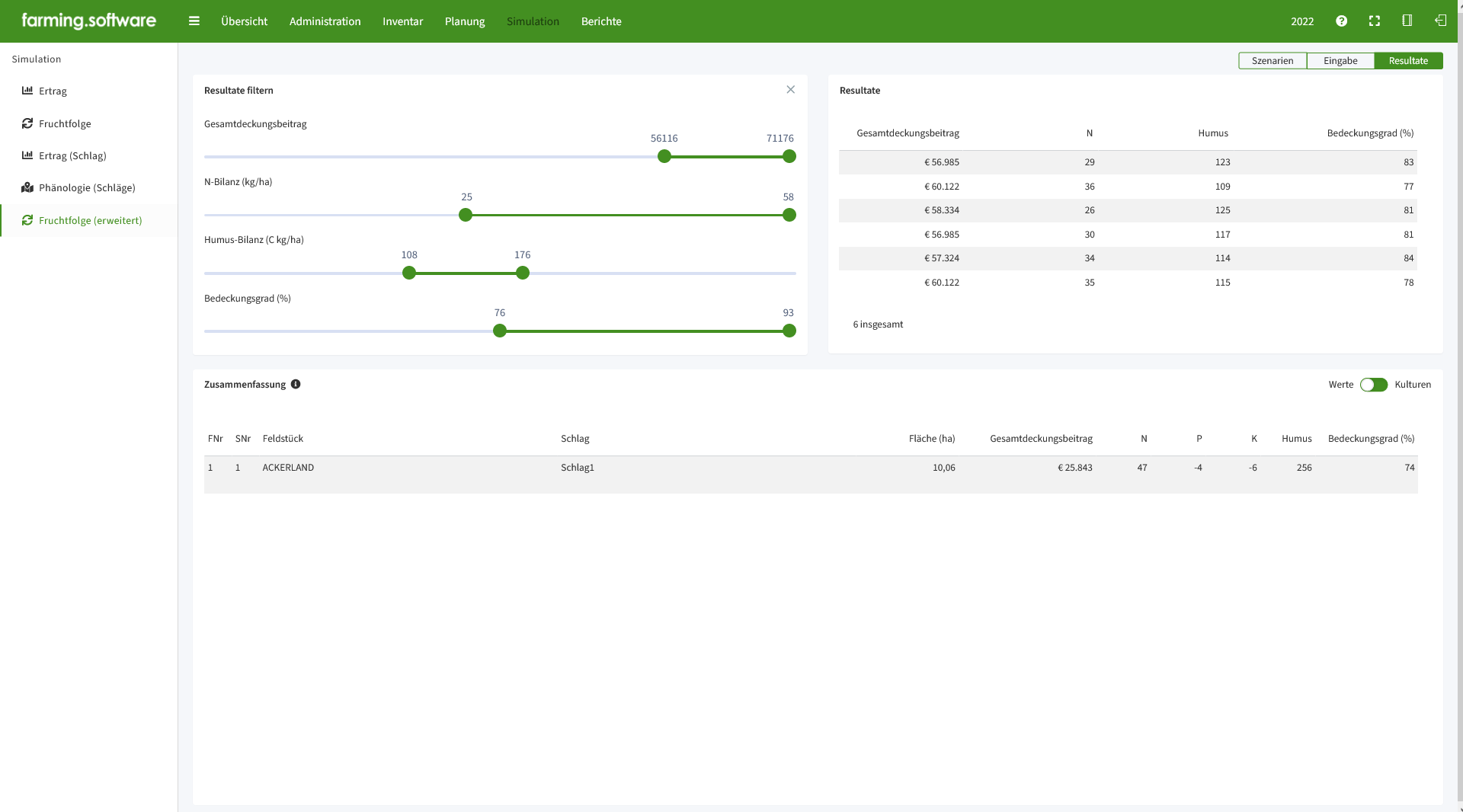 Optimisation of resource use by crop rotation
A well-designed crop rotation, e.g. inclusion of legume crops, can improve soil structure and fertility, optimise nutrient and water use, and reduce the occurrence of disease, pests and weeds. Interventions, such as the use of nitrogen fertilisers and pesticides, can thus be minimised. On cash crop farms, however, including fodder legumes in crop rotation does not generate income.
With farming.software, the positive effects of rotations in terms of investment in soil fertility can be shown to have tangible economic benefits. farming.software can also optimise crop rotations to achieve multiple objectives, for instance, improving crop yield while reducing fertiliser application.