BIM-based renovation decision support
Renovation designers
Architects
Construction companies
Planners and consultants
The European Green Deal should make Europe the first climate-neutral continent with no net emissions of greenhouse gases by 2050. Increasing the renovation rate of buildings is a key initiative to drive energy efficiency in the sector and contribute to the European Green Deal objectives. In this context, our goal was to put forward an intuitive, BIM-based, and easy-to-use decision support system (RenoDSS) that illustrates the building's renovation options, evaluates their impact on the building performance and guides the user through various alternatives towards the optimal choice for given constraints (such as budget, target energy savings, etc.).
RenoDSS automatically generates building renovation scenarios, their KPIs and IFC representation based on: (i) the IFC representation of the current building configuration, (ii) potential renovation measures selected by the user and their defined mapping to IFC elements, and (iii) a rule set on how these renovation measures can be combined and applied on the building. For each generated renovation scenario, RenoDSS calculates 39 energy, finance, and sustainability KPIs and provides detailed information on single renovation measures within the scenario such as investment cost and quantity (pieces, m², m³, etc.) of each measure which allow the user to compare the generated renovation scenarios and identify the most suitable one.
Large building material database: use our material database to enrich your IFC file with thermal, sustainability, and financial material properties to support the KPI calculation.
39 Key Performance Indicators: RenoDSS uses EnergyPlus and an LCA/LCC calculation engine to calculate the energy, financial, and sustainability KPIs (e.g., heating demand) of your current building configuration and potential renovation scenarios.
Renovation measure library: choose from a wide range of default renovation measures or define your own constructions (wall, floor, roof) or components (windows, heating systems, etc.) to increase the energy performance of the building.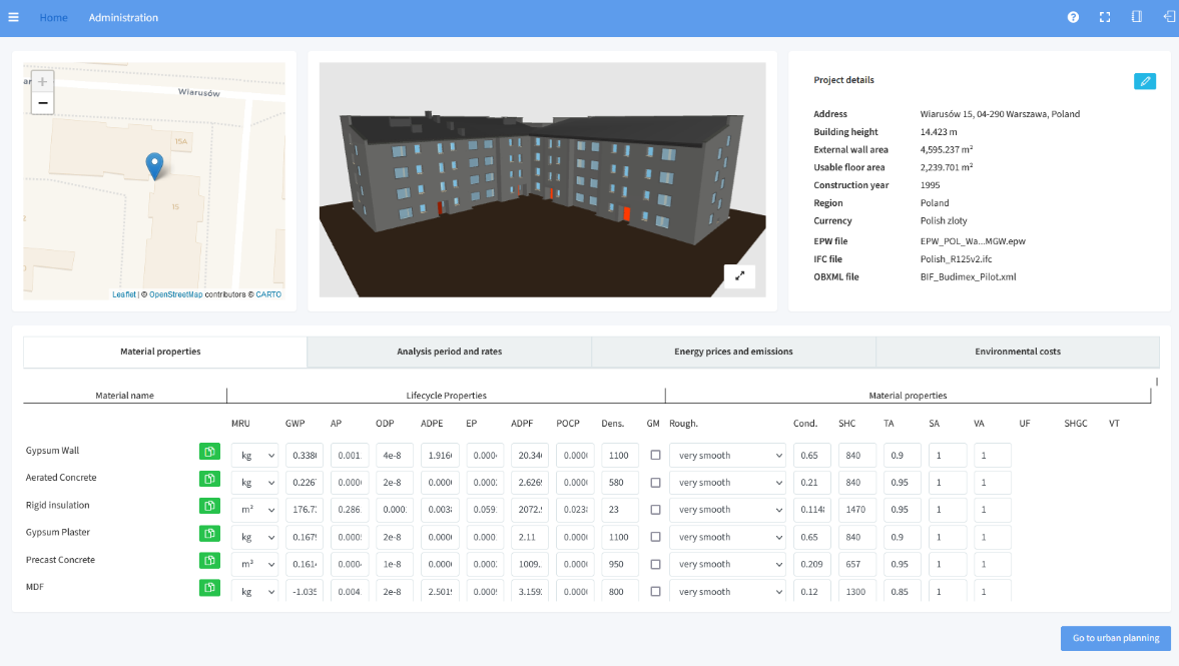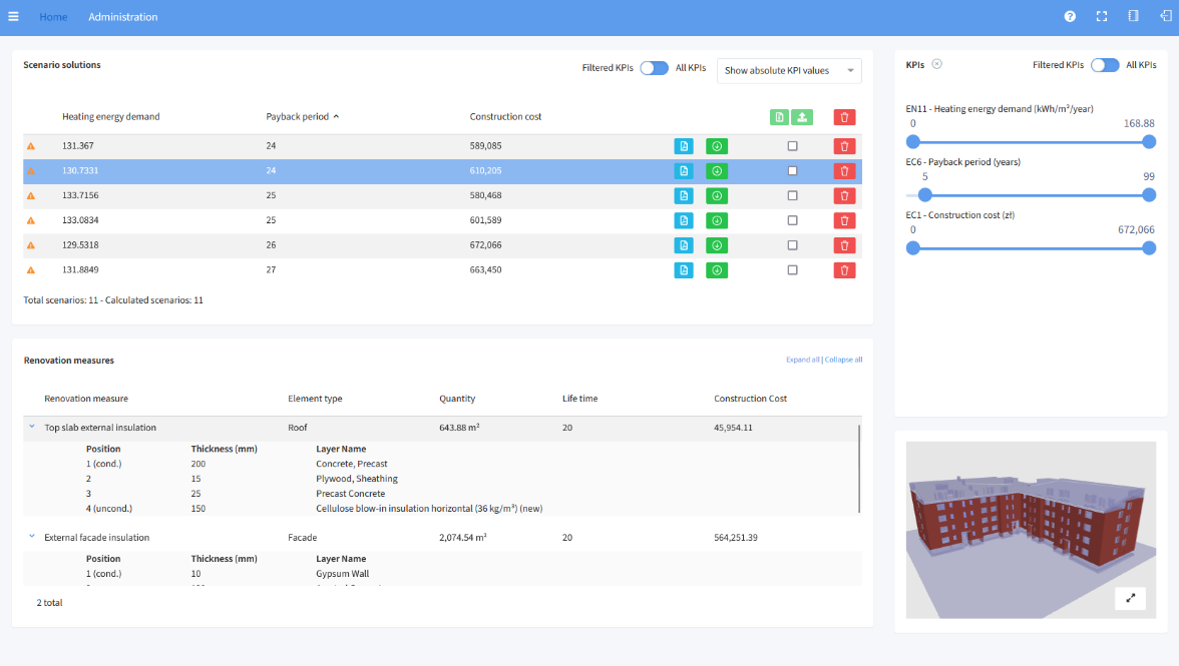 Automated renovation scenarios: RenoDSS automatically combines your renovation measures to generate hundreds of potential renovation scenarios including their KPIs and IFC models.
Select the best renovation option: RenoDSS enables you to inspect, filter, and sort the renovation scenario KPIs to identify the most promising solution.
Massive time savings: compared to traditional approaches, RenoDSS save up to 90% of the time required to build the scenarios, computer their KPIs, and create corresponding IFC files.
No vendor lock-in: RenoDSS can be combined with your preferred BIM solution. IFC as exchange format makes it possible.